Another platform war is happening. Apple, Google, Microsoft, Samsung, LG and Sony will compete or partner with BMW, GM and other car-makers. Another good sign in favor of the universal and responsive web apps! All you need is an up to date web browser with lots of RAM, fast CPU, fast Internet access and offline storage capabilities. In-car infotainment, computers, tablets, smartphones, smarttvs, smartwatches, smartglasses, smartfridges... In my humble but radical opinion, these are not smart at all and just different (touch)screens to access the net (think Chromium OS). Ultimately, proprietary platforms apps will die and developers will celebrate. Can't wait.
First posted at http://plus.google.com/+jonathanmetillon/posts/37j5wT1apkC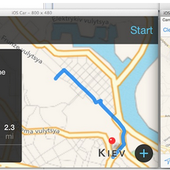 iOS in the Car Functionality Shown Off in New Video
iOS in the Car is a new feature for iOS 7, which is intended to allow an iOS device to take over the in-dash display in a car, providing access to navigation, phone functions, messages, and possibly Siri.
http://www.thecsguy.com/blog/2014/1/28/ios-in-the-car-functionality-shown-off-in-new-video